CONCERT ORCHESTRA CONDUCTOR SEARCH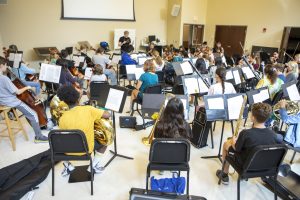 After eighteen seasons, Emilie Grondin is retiring as Concert Orchestra conductor. SBYSO is running a search for a new conductor for this position. This is a part-time, independent contractor position.
Application deadline is January 15, 2024.
Application can be found here and must be completed no later than January 15, 2024 at 11:59pm ET.
First round of interviews will take place prior to February 15, 2024.
Finalists will be invited to conduct a portion of a Concert Orchestra rehearsal in early April.
The candidate chosen by the Selection Committee will be notified prior to May 10, 2024 concert, and public announcement will be made at the May 10 concert.
Questions? Please contact Diane Economakis, Executive Director, at sbyso@sbyso.org.